When:
January 5, 2013 @ 8:15 pm – 10:15 pm
2013-01-05T20:15:00+00:00
2013-01-05T22:15:00+00:00
Where:
Museo Piaggio
Viale Rinaldo Piaggio
7, 56025 Pontedera Province of Pisa
Italy

Cost:
€8 (limited seats, reservation required)
Contact:
Carlo Chesi
(+39) 347 320 9630
Emiliano Loconsolo: vocals
Francesco Lo Castro: guitar
Nino Pellegrini: bass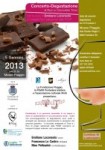 ENGLISH: CantinaJazz takes a delicious twist and explores the handsome handmade chocolates by artisan Andrea Trinci. Each sample is specifically paired with some of the finest rums in the world and arranged to the timeless music of Jazz masters such as Duke Ellington and Charles Mingus. The chocolate and rum samples are selected by the sommelier organization FISAR in order to create an unusual bouquet of perfumes and flavors. A Connoisseurs event not to be missed!
ITALIANO: In questa serata, un po' inusuale e particolare, i protagonisti che affiancheranno la musica non saranno i vini, ma bensì Rum e cioccolato artigianale Trinci: i brani che accompagneranno la degustazione sono scelti e arrangiati per riprodurre acusticamente le sensazioni del percorso gustativo.  Il cioccolato artigianale di Trinci e i Rum di pregio selezionati dalla FISAR creeranno un bouquet di sapori notevole, raro e sorprendente.
The rum and chocolate presented will be:
• Trois Rivieres Rum Agricole (5 anni)
> Doppio assaggio : granella di fave di cacao tostata e pasta pura 100% (la materia prima > granella di fave di cacao tostata  e la sua evoluzione > pasta di cacao 100%)
 II°
• Sea Wynde Rum Jamaica & Guyana
> Fondente 80% e granella di fave di cacao (senza vaniglia !!!) : la granella di fave di cacao e la pasta di cacao si sposano con lo zucchero di canna
III°
• Zacapa Etiqueta Negra
> Fondente 75% + 15% miele della spiaggia + 10% zucchero di canna e vaniglia in bacche
For more info: