When:
August 10, 2016 @ 7:00 pm
2016-08-10T19:00:00+01:00
2016-08-10T19:15:00+01:00
Where:
606 Club
Pantechnicon Creative Services
90 Lots Rd, Chelsea, London SW10 0QD
UK

Contact:
606 Club
(+44) 020 7352 5953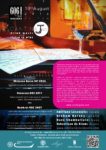 **606 CLUB SPECIAL** "CANTINAJAZZ" feat. EMILIANO LOCONSOLO-vocals & FINE WINES FROM TUSCANY! 
Well, this is a very interesting and really quite special night. Established in Italy for more than 15 years but coming to London for the very first time, CantinaJazz is described by the founders as "a multi-sensory event where tasting fine wines and listening to Jazz fuse together into a whole new, mesmerizing, experience."  Three fine wines from an Award winning Tuscan vineyard will be presented, one at a time, throughout the evening, effectively splitting the night in to three distinct, sections, each with its own food, wine and music. Each wine has its own distinctive character and both the food and music served with that wine have been chosen to mirror its taste, personality and history, creating a unique experience that marries wine, food and music into one "characterful" whole. The wines featured this evening will be supplied by the Award winning Tuscan Tenuta di Ghizzano vineyard, owned by the Venerosi Pesciolini family and will be presented by the Countess Ginevra Venerosi Pesciolini herself, who will be flying to London especially for the occasion. For the "foodies" amongst you we will start with an easy-drinking "Ghizzano 2014", followed by a "Veneroso 2011" (DOC Terre di Pisa) and the third and last segment of our fascinating and unique adventure will revolve around the outstanding "Nambrot 2007" (DOC Terre di Pisa). The music will be provided by a singer who is a very old hand at this, having presented many such evenings in his native Italy, the excellent Emiliano Loconsolo, accompanied by a terrific UK based rhythm section of 606 regulars: Graham Harvey (piano), Dave Chamberlain (double bass) and Sebastiaan de Krom (drums), Emiliano will be performing classic jazz standards to go with each segment of the evening, from jazz/gospel for the first wine, through swing classics for the second to the sophisticated songs of Duke Ellington and Billy Strayhorn for the last. And to match the wine and music we have asked our wonderful Italian chef Guillermo Farro (known affectionately here as "Gully") to put together a special Italian menu for the night. So Gully has come up with some wonderful, homemade dishes for each section of the evening, including Mushroom Bruschetta with pancetta, Italian meatballs, Genovese polpettone and Lamb cutlet with raspberry and balsamic vinegar reduction (and we will, of course, have suitable vegetarian options for each course as well). Although it may sound a little "highbrow" that's certainly not the intention, in true 606 style the idea of the evening is just to have some fun and get to hear some good music, drink some great wine and eat some terrific food – very much like any other night…just with a bit of a twist. For any further information please feel free to give us a call. Booking advised. Sponsored by the Pisa Chamber of Commerce and the University of Pisa.