When:
April 17, 2016 @ 8:00 pm
2016-04-17T20:00:00+02:00
2016-04-17T20:30:00+02:00
Where:
Cinema Teatro Lumiere
Vicolo del Tidi
26, 56126 Pisa PI
Italy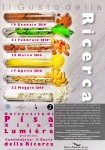 Our fourth event at the Lumiere in Pisa will be an homage to the quintessence of Spring: flowers and bees. A wide array of tasty and colorful recipes which call for seasonal flowers, honey, bee pollen, royal jelly and propolis, lay undiscovered; we are still meditating about wines, and therefore music, to combine with such sweet, flowery and sticky (yum!) products, but I'm sure the result will be both musically and gastronomically intriguing.
As usual, stay tuned and hungry!