When:
February 21, 2016 @ 8:00 pm
2016-02-21T20:00:00+01:00
2016-02-21T20:30:00+01:00
Where:
Cinema Teatro Lumiere
Vicolo del Tidi
26, 56126 Pisa PI
Italy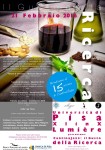 This will be a very special event to celebrate the 15th anniversary of CantinaJazz and the three wines we featured in our first event ever, on February 2001 in Torre del Lago Puccini (yes that one, where Giacomo Puccini was born!!). Below are some info about the ensemble and the delicacies of the evening.
Un appuntamento davvero speciale dedicato ai quindici anni di vita di CantinaJazz, in compagnia dei più grandi vini delle Cantine che accompagnano CantinaJazz da allora e della carne di Mucca Maremmana, allevata dalla Tenuta di Paganico, su ricerche dell'Università di Pisa.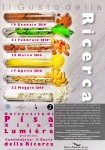 – Emiliano Loconsolo: voce
– Fabrizio Desideri: clarinetto-sax,
– Piero Frassi: piano
– Nino Pellegrini: contrabbasso
– Andrea Melani: batteria
– Michele Cristiano Aulicino: reading poetico
Tenuta di Ghizzano – Ghizzano Bianco 2014
Carpaccio di Mucca Maremmana
***
Tenuta di Ghizzano – Nambrot 2012
Cannelloni di ricotta e trevisano con 
contorno di verdure e scaglie di pecorino
***
Fattoria Varramista – Varramista 2008
Stracotto di Mucca Maremmana con polenta
***
Fattoria Uccelliera – Castellaccio 2009
Cencio salato al pecorino 
***
Caffe' del Trinci
(menu curato dallo Chef Massimo Tessieri)