When:
July 26, 2014 @ 7:00 pm
2014-07-26T19:00:00+02:00
2014-07-26T19:30:00+02:00
Where:
Tenuta di Ghizzano
Via della Chiesa Ghizzano
4, 56030 Ghizzano Pisa
Italy

The 2014 season of the initiative "Vetrina Toscana" for the first time embraces CantinaJazz, creating a musical and enological itinerary that encompasses some of the finest producers in the most strikingly beautiful corners of the province of Pisa.
The third concert will take place in the lush gardens of the Tenuta di Ghizzano in Peccioli, about 50km  south-east of Pisa: Ghizzano is a small hillside village about 200 meters above sea level, located on the Tuscan coast, 40 km from Livorno and 40 km south of Pisa. The winery and olive mill are situated around the tower built by the Venerosi Pesciolini family in 1370. We are in the area known as Colline Pisane, which comprises a range of hills southeast of Pisa. None of these gently rolling hills exceeds an altitude of 200 meters: the landscape and the climate are mild, mitigated as it is by sea winds, without extreme temperatures and with no great risk of spring frosts.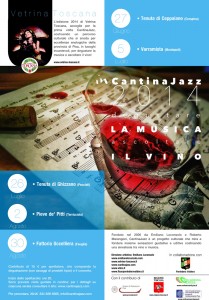 A guided tour of the vineyards and the wine cellars will precede the event.
The ensemble will be:
Emiliano Loconsolo: vocals
Max Soggiu: sax
Piergiorgio Pirro: piano
Nino Pellegrini: double bass
…and poetry by Michele Cristiano Aulicino
For more info about wines and food presented, please visit the CANTINAJAZZ webpage