When:
August 2, 2014 @ 7:00 pm
2014-08-02T19:00:00+02:00
2014-08-02T19:30:00+02:00
Where:
Pieve de' Pitti
Via Pieve de' Pitti 7/bis
56030 Terricciola (PI)
The 2014 season of the initiative "Vetrina Toscana" for the first time embraces CantinaJazz, creating a musical and enological itinerary that encompasses some of the finest producers in the most strikingly beautiful corners of the province of Pisa.
The forth event will be hosted by Pieve de' Pitti, 40km  south-east of Pisa: the vineyard and its villa are is situated in the southern part of Terricciola, in the heart of "Alta Valdera". There are 198 hectares of woods, cultivated fields and above all vineyards and olive groves that stretch radially, on the hill with the main landmarks, the Villa and the Castle of Pava. The name Pieve de' Pitti in derived from the name the name of parish chapel of St. John of Pava, built on the ruins of an ancient Etruscan church And from the Florentine Pitti family, who owned the estate until the end of XVII century.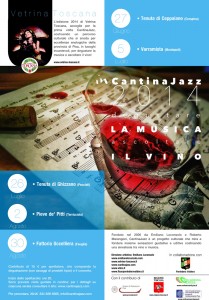 A guided tour of the vineyards and the wine cellars will precede the event.
The ensemble will be:
Emiliano Loconsolo: vocals
Piero Frassi: piano
Nino Pellegrini: double bass
…and poetry by Michele Cristiano Aulicino
For more info about wines and food presented, please visit the CANTINAJAZZ webpage