When:
July 19, 2017 @ 9:30 pm
2017-07-19T21:30:00+02:00
2017-07-19T21:45:00+02:00
Where:
villa annamaria de lanfranchi
Strada Dolomites delle Dolomiti
146, 56017 Molina PI
Italy

Cost:
€15 (free for under 14)
Contact:
Organization "Chi Vuol Esser Lieto Sia"
+39 347 889 0899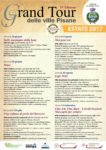 I am glad to bring back on stage an unusual re-interpretaion of some Baroque timeless arias such as "Amarilli" and "Lascia ch'io Pianga" framed by the suggestive Villa Torrigiani Malaspina near Pisa. I will share the stage with the chamber ensemble lead by flutist Anna Ulivieri, which also includes Stefano Quaglieri (guitar), Roberto Cecchetti (violin), Eleanor Young (violoncello), Elisa Dentone (danzatrice), Franco Cecchini (regia e coreografia).
Feel free to check out the non-profit organization's website (www.chivuolesserlietosia.org) for more details and to stay tuned with all their summer initiatives.
Johann Sebastian Bach (1685– 1750)
Arioso
dal Concerto in Fa minore per cembalo
Claudio Monteverdi (1567 – 1643)
Fugge l'verno de dolori
Robert De Visée (1650 – 1725)
Suite in Re minore
(Allemande – Courante – Sarabande – Gavotte -Bourreé )
Giulio Caccini (1550 – 1618)
Amarilli, mia bella
Giovanni Battista Pergolesi (1710 – 1736)
 Siciliana
Tomaso Albinoni (1671 – 1751)
Sonata n°6 in LA minore
(Largo-Allegro-Adagio-Allegro)
Georg Friedrich Haendel (1685 – 1759)
Lascia ch'io pianga
Claudio Monteverdi
Si dolce è il tormento